Streamline your labor process with EBMS's all-in-one system. Easily add parts to a work order, tie actual vs billable time into payroll, and create and schedule work orders the shop can access. EBMS contains many tools to assist managing employee schedules, tracking parts, evaluating billable time, maintaining efficient invoicing systems, and other jobs that are crucial to managing labor.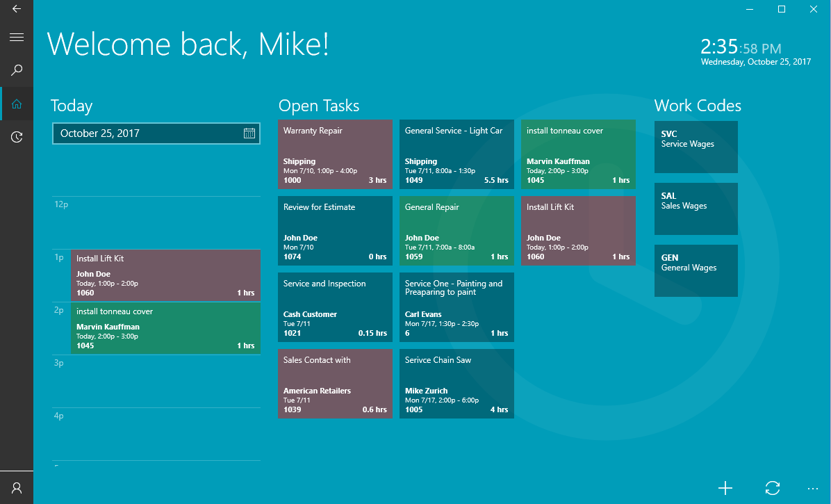 Scheduling
Conveniently connect work orders, phone calls, contacts, billable time, and task details to customers, sales orders, serialized whole goods, time-card detail, and jobs to track labor. Reports and forms make it easy to pull worker lists and information reports as well as tax, work code, and employee history reports. Access field service technicians, see service details, and more from a phone, tablet, or other portable devices. Eliminate clerical time entering timecard information by utilizing the clock in and clock out times within the EBMS. Document service history and manage service contracts to track labor costs and contract details.
Work Orders
Labor tracking on the go! Efficiently manage a variety of work orders, phone calls, contacts, and other tasks while in the shop, on the road, or around the world. Integrated directly with the labor management tools of EBMS, this feature is a powerful way to enable workers, of all types, to quickly and easily record their time right from their devices.
Extensive Payroll
The flexible and easy-to-use payroll module can be used for small companies with few employees or large companies with complex deductions and pay types. The time card system can handle hourly pay, salary, piecework, prevailing wage, commissions, benefit pay, and much more.