Our integrated accounting software offers financial and payroll system features. Transactions from accounts payable, accounts receivable, inventory, payroll, and journal entries all come together to give you a complete picture of your company's financial status. The financial module is the core of this powerful business management system. The advanced features of the financial and payroll system include extensive drill down and audit trail details.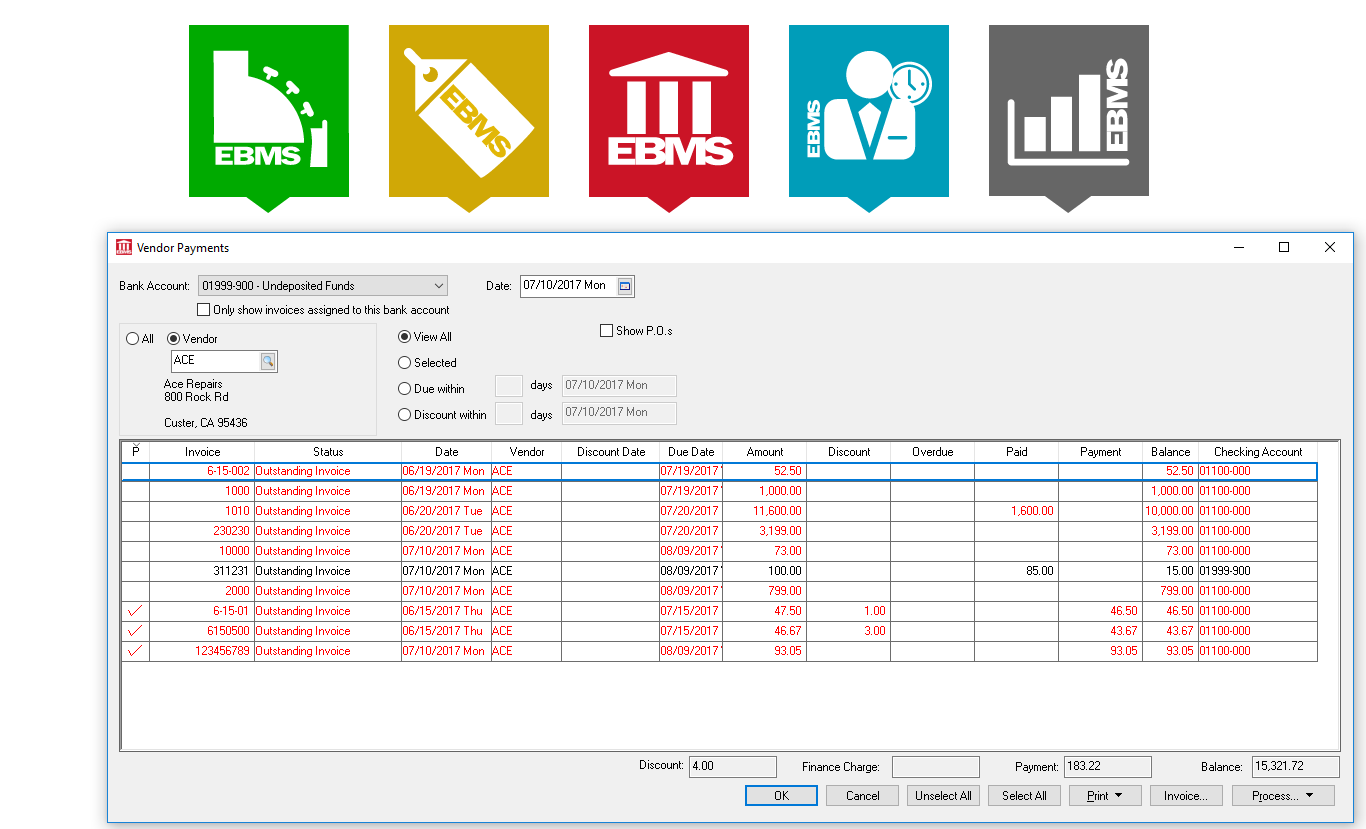 Back Office Management
At the core of any effective business management solution is an accurate and user-friendly accounting system. The business management tools that Eagle Business Software offers all come together in the Financials module. Just as a hub is to a wheel so Financials is to EBMS. The transactions from Expenses, Sales, Labor and Journal Entries combine to provide a complete picture of the company.
Reporting
Make better-informed business decisions with up-to-date financial reports that include balance sheets, profit and loss statements, trial balances, aging reports, and date-based transaction reports. As an extension to the general ledger account numbers, Profit Centers & Departments help manage print profit reports and other necessary information. All reports and forms within the EBMS software can be modified by the user using the flexible Crystal Reports tool. Custom reports and lists can be seamlessly added to the hundreds of standard EBMS reports.
Tracking
Using the comprehensive audit trail, all detailed numbers can be quickly viewed to verify any summary total on a screen or report. Add goals and plans for the next year and more with the budgeting tool. The projected budget assists in comparing actual expenses and income as your company grows. Easily access the source of any transaction or payment with the account reconciliation tool. The tracking system includes an easy to use drill-down method to reveal the source document for any transaction detail record.
Accounting
Manage all labor including 1099 or subcontract labor. Journal entries can adjust transactions that include employee W2 balances, bank accounts, receivables, payables, and many other account balances in order to report accurate summaries. EBMS allows you to create purchase orders and invoices, make payments, and handle the bank accounts related to Accounts Payable. Additionally, security can be set per module within windows, tabs, data entry fields, reports, processes and buttons.



Expenses
This module is used to record purchase orders, expense invoices, and vendor information. EBMS allows you to create purchase orders and invoices, make payments, and handle the bank accounts related to accounts payable.