Do you need to simplify the process of selling and tracking inventory parts, assemblies, and kits at the point-of-sales counter? Are you trying to track inventory counts and reorder points for many small parts that are kitted to a finished product? Do you need to have the ability to quickly schedule service jobs and track work orders? EBMS can help with all of these issues and more while connecting everything back into one business management and accounting system to provide a complete picture of your business.
EBMS specializes in integrating the point-of-sale, inventory control, kitting, work orders, and back-office management processes into one streamlined solution designed for the hydraulic, pneumatic and fluid power industry.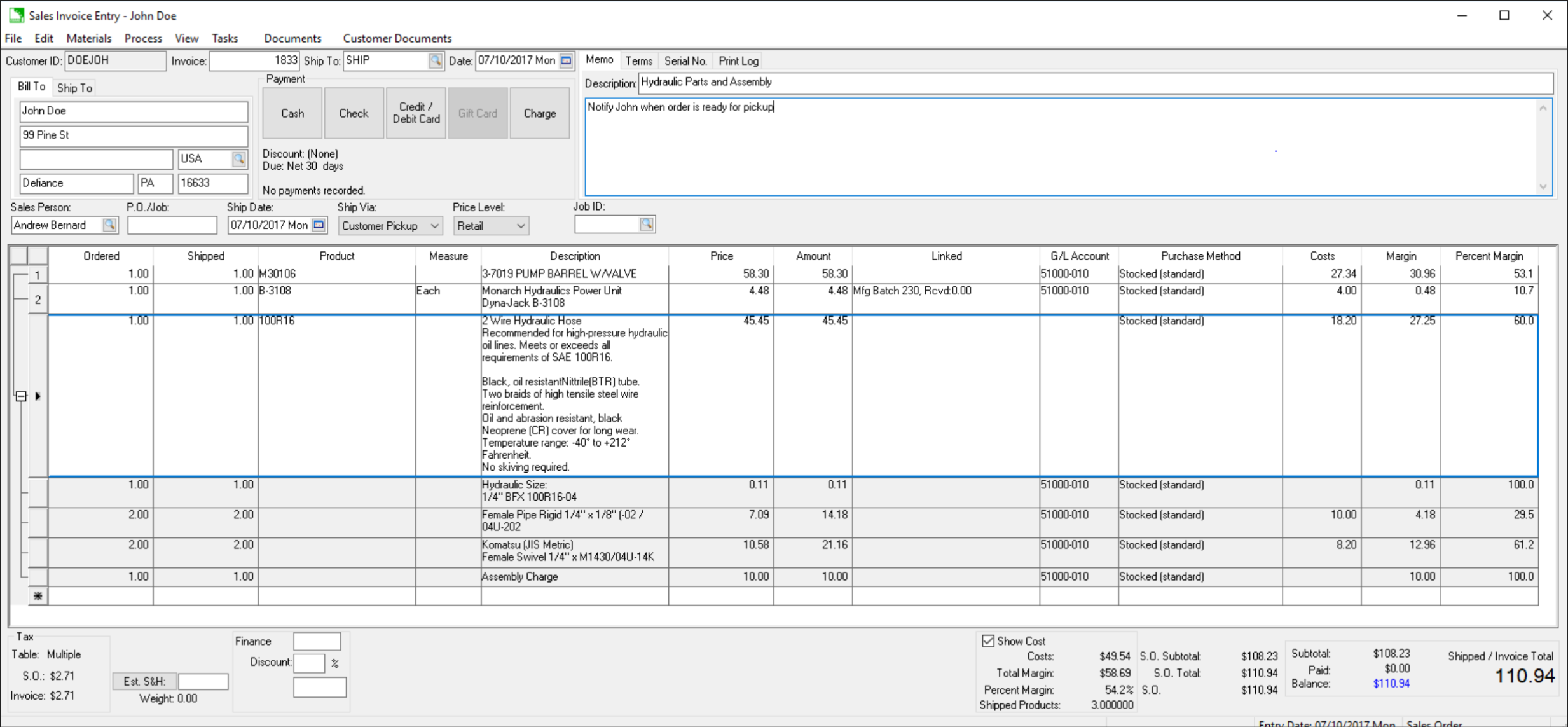 Point-of-sale
The point-of-sale system within EBMS allows the user to easily enter parts and assemblies to a sales order using scanners.

Stocked or made-to-order assemblies and kits can also be quickly entered or scanned into the point-of-sale as a materials list that contains one price.

Easily and quickly sell parts and assemblies at the point-of-sale.
Kitting and Assemblies
Easily build custom hose assemblies or load custom kits in the point-of-sale and work order modules

A predefined component list can be associated with assemblies or kits to easily define a list of materials that are used to build or assemble the finished product.

A custom component list can also be quickly built or scanned on the fly in the sales order.

Easily create and track assembly kits while still maintaining accurate inventory count information for the components listed in the assembly kit.
Work Orders
The powerful work order module in the EBMS software allows you to organize, schedule, and print work orders.
Inventory Control
EBMS allows you to quickly special order parts, track stock level settings, scan products in and out of inventory, easily manage purchasing in a robust dashboard, and much more.
Manufacturing
Create stock or custom manufacturing batches, such as hydraulic cylinders or power units, with the powerful Manufacturing module
Accounting
EBMS integrates the sales, inventory, work order, and back office accounting and management processes into one streamlined ERP solution for the fluid power industry.
Learn more about the hydraulic, pneumatic, and fluid power software