Are you spending too much time flipping through vendor catalogs or crawling their website looking for a part? Are you trying to coordinate 2-3 different systems for sales, work orders, and accounting to try and get a clear picture of what is happening with your business? With EBMS quickly access vendor parts through point-of-sale, schedule work, and order parts all from one place while providing a clear business picture through integrated reporting.
Eagle Business Software specializes in integrating point-of-sale, inventory control, work orders, and back-office management processes into one streamlined solution designed for the automotive shop.

Point-of-sale and Special Order
Quick product lookup tools, barcode printing, and scanning options make selecting items quick and efficient.

Stream-lined point-of-sale options make the solution quick and easy-to-use to meet the needs of today's retail environment.

Get direct access to vendor parts information, pricing, and availability.

Look up the year, make, and model of a vehicle.

Create special orders and non-stock parts including recording a down payment, creating a purchase order, and documenting a vendor part number.

Promotional pricing and advanced pricing options are available.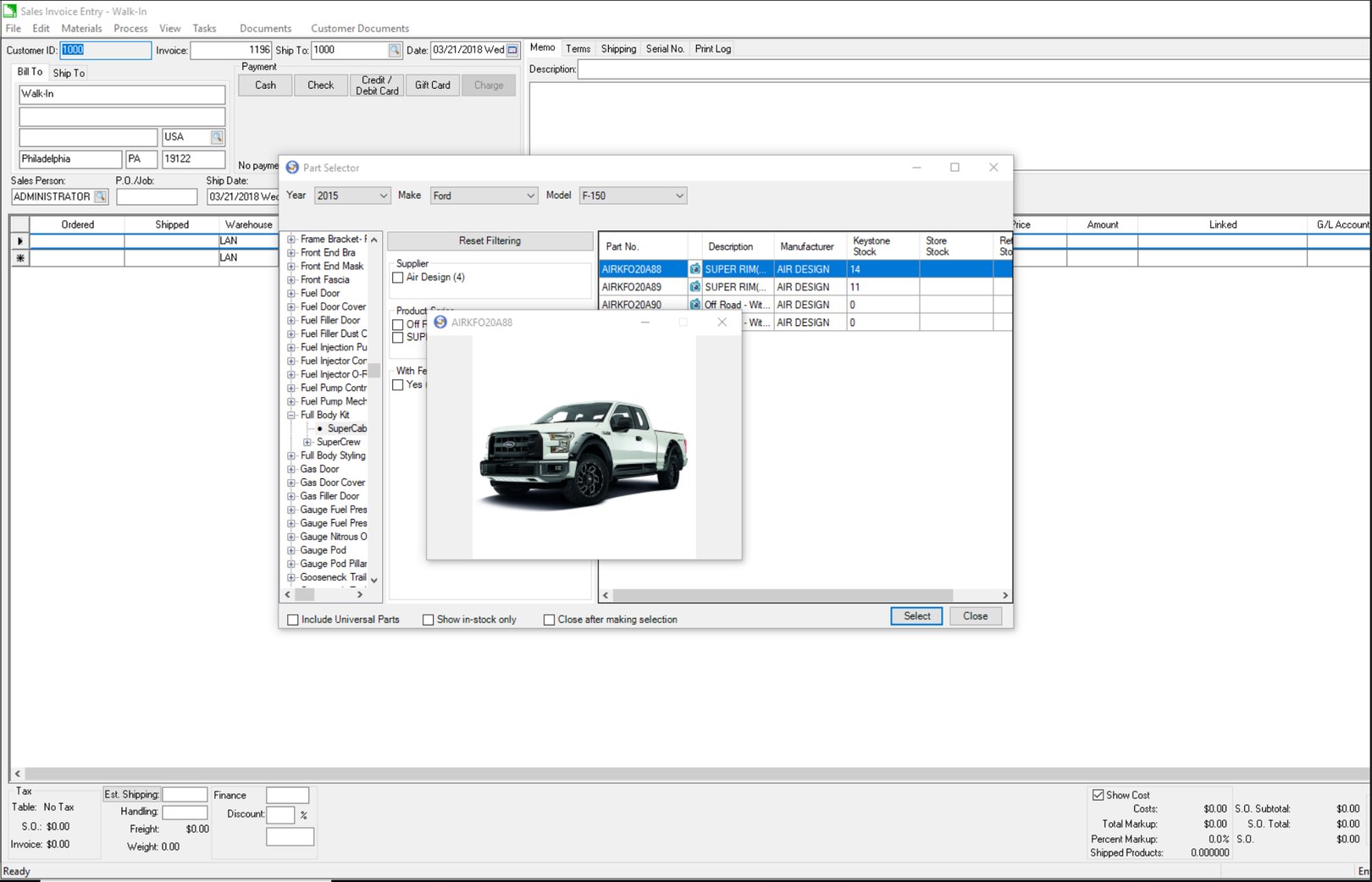 Work Orders
Schedule jobs, record time, and evaluate productivity to efficiently manage technicians and schedules.

Record VIN numbers and specific information such as year, make, model, and mileage to the VIN number.
Parts Catalog Aftermarket tools
Access multiple parts price catalogs from multiple vendors without cluttering the main inventory catalog with parts that are never used.

Vendor catalogs are linked to the main EBMS catalog to update pricing and other details.

Vendor inventory catalog information can be viewed and automatically updated by accessing your vendor's live price list within EBMS.


Data Integration
eKeystone - The complete eKeystone catalog is integrated directly into the EBMS point-of-sale and order entry dialog. Automatic inventory jobber price updates, real time warehouse stock levels, installation kits, superseded details, and so much more are at your fingertips.

SEMA Data Co-op - Eagle Business Software has developed a seamless connection between EBMS and the manufacturer data of your choice through the SEMA Data Co-op (SDC). The SDC is providing tremendous value to its members as the only source of FREE complete Industry Standard Compliant data.

WHI - Nexpart eCatalog is the most comprehensive and cost effective electronic catalog, of automotive part applications and service dealer data, available. It contains nearly 500 million applications for replacement, accessories and performance parts and product information from thousands of aftermarket parts manufactures.
Inventory Control
Inventory control includes unlimited bill of materials, multiple inventory location options, flexible pricing options, advanced purchasing tools and dashboard, special order tracking, automatic labor/installation fees per product, and more.

Product Application Guide identifies the vehicles a part fits and gives you a built-in Year, Make, and Model search tool at your point-of-sale.

Quickly view products that are below desired stock levels and create purchase orders. The appropriate stock level/reorder levels can be derived from past history values.

Serialized items record vehicle or trailer VIN numbers as well as the serial numbers of components such as truck caps, truck beds, electronics, or other serialized accessories. Parts can be added to customized trailers or vehicles to track inventory and upfitting costs.
Accounting
The integrated financial tools are the core to this powerful ERP solution. Features include a complete accounting system, profit center management tools, payroll, financial reporting, and more.